Roll over image to zoom in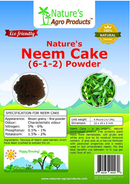 Description
Neem Cake - is an organic, natural plant-based product that protects plant roots from nematodes, soil grubs and white ants due to its residual limonoid content. It also acts as a natural fertilizer with pesticidal properties and is widely used in Soil amendment needs. Its a good source of NPK. For the best benefits use between ¼-½ cup per cubic foot of soil or 10 - 15 pounds per 1 cubic yard of soil.
Warning: Keep away from Children. Not intended for human or animal consumption. 
Payment & Security
Your payment information is processed securely. We do not store credit card details nor have access to your credit card information.