Roll over image to zoom in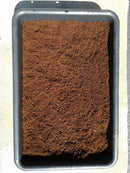 Description
Nature's Coco Coir compressed 11 lbs Block, is our best selling product. It is most widely used and is very cost effective.
Applications include Hydroponics, Aquaponics, Commercial potting mixes, Home gardens and growers, Greenhouses, Direct soil amendment, Compost amendment, animal/livestock bedding, Reptile bedding, liquid absorbing compound. For more details on the product and usage instruction, please check out our site at www.natures-agroproducts.com
Our coco coir products are organic, bio-degradable, guaranteed to be very high quality and very low EC (<0.5 ms/cm). Very low level of EC is attained by repeated washing with fresh water.
Nature's Coco Coir is a premier growing medium and is an excellent alternative to sphagnum peat moss.
Our coco coir block is free from dirt, foreign material and weed seeds. We screen our washed raw material to remove dirt and bigger chunks to get perfect texture.
Product specifications:

Unit weight  
11 lbs 
Block dimension

12" x 12" x 6"

Compression ratio 
5:1
Moisture
10-15%
Volume (uncompressed)
70 - 75 liters
pH
5.8-6.8
EC washed
<0.5 ms/cm
Unwashed available upon request
Special orders only
Packing
Palletized bulk shrink wrapped. Individual block packing is available upon request
Load-ability
40 feet container 20-24 MT
20 feet container 10-12 MT
Package options
Clear shrink wrap (single block)
Clear shrink wrap (whole pallet)
Weather packing with UV inhibitor for outdoor 
Labeling/Branding
Custom labeling/branding available upon request
Directions for Use: 
Lay block down flat somewhere with full drainage. Slowly pour water over block, allowing water to absorb without runoff.
Let it sit for 30-40 minutes. Break apart with hands until light and spongy. Each compressed 11 lbs block will yield around 70 - 75 liters of uncompressed Coco coir after breakdown.
Payment & Security
Your payment information is processed securely. We do not store credit card details nor have access to your credit card information.